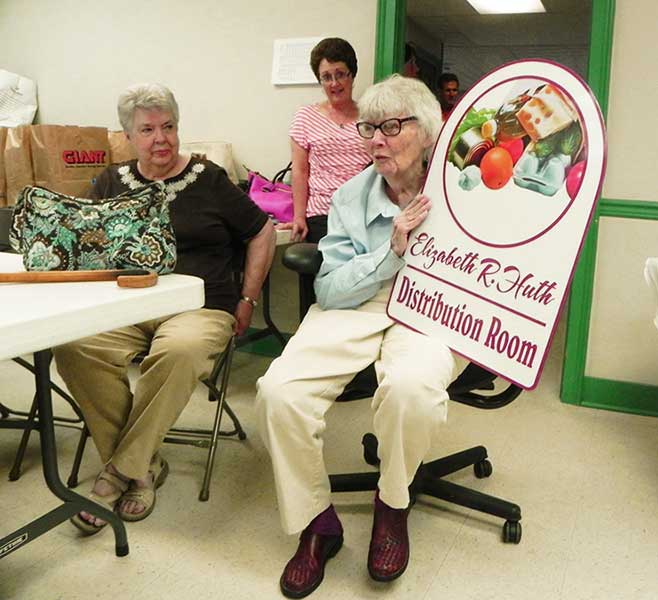 By Pamela Sroka-Holtzmann, The Express-Times, June 16, 2014, Page A-5
---
When Elizabeth "Betty" Huth started volunteering for the Nazareth Area Food Bank more than two decades ago, it was run out of a church closet.
The food pantry has gone from serving 15 people back then to more than 300 today out of a 52,000-square-foot building on Main Street in Nazareth.
The 90-year-old was honored for her contributions last month. She retired from the food bank's board of directors this year. Her persistence, along with a group of area churches known as the Nazareth Ministerium and other volunteers, led to the growth of the pantry.
"We really played it by ear because in the beginning, we had no direction and it just grew," Huth recalled. "The ministerium took an interest and we got volunteers from each one the churches and formed a board. Then, we became well-known. That was the beginning of the way it looks today."
Huth was honored during the food bank's May board meeting. Members surprised her by renaming the food distribution room the Elizabeth R. Huth Distribution Room. Some of Huth's family members were present during the ceremony. Her family includes three sons, eight grandchildren and nine great-grandchildren.
Jim Byrnes, food bank director, said Huth ran the food bank from the 1980s until late 2009.
"The main thing is she encouraged not only me, but other members of the board and volunteers," Byrnes said. We rely tremendously on our volunteers."
Huth said she met people from all walks of life as the need for food grew.
There were people who suddenly lost their jobs. Some lost their homes to foreclosure. Others' marriages fell apart and had children to take care of.
All had their pride, she said.
"They would stand there and I could see that they were hesitant about coming. Women cried," she recalled. "If I had a nickel for every time I heard (a patron say), 'I've never done this before.' "
But Huth said volunteers made those who were uncomfortable feel at ease and encouraged them to use the food bank until they got back on their feet. No questions were ever asked, she said.
Huth's ultimate fulfillment came when patrons returned to tell food bank volunteers they were doing better. She recalled a single mother going back to school, getting her teaching degree and landing a stable job.
"I was really glad we helped," she said.
It wasn't easy to get the Main Street building. She recalled with a laugh naively thinking she could get a business to donate a building for free.
Essroc Cement Co. sold the 120-year-old former railroad freight station to the food bank in 2008. St. John's Lutheran Church congregants donated $50,000 for the mortgage's down payment. Refrigeration for the facility later was donated by the Visions of Eagles group.
Looking back at all she accomplished, Huth said she had found her life's purpose in the food bank.
"Everybody believes we're here for a purpose. I often thought to myself, 'Am I finding what I am supposed to be doing?'" she said. "I think I found it."
https://www.lehighvalleylive.com/nazareth/2014/06/nazareth_woman_90_recognized_i.html#incart_river_default